Order the new model - Generation 4.5
The flattest ceiling fan on the market (18 centimeters)
---
The newer generation (GEN 4.5) includes the following improvements :
Even more efficient and higher speed motor for a stronger ventilation & air speed (1.14 meter per second). These new numbers are obtained without any increase in noise or electricity consumption (which remain the same).
The Exhale ceiling fan is equipped with the highest quality motor available, the BL DC motor (Brushless DC motor). BL DC motors combine the advantages of DC motors and brushless motors. They are very reliable, very efficient in terms of performance/size ratio and efficiency. Their torque is very high and their operating range is wide (up to 300 rpm at speed 6).
---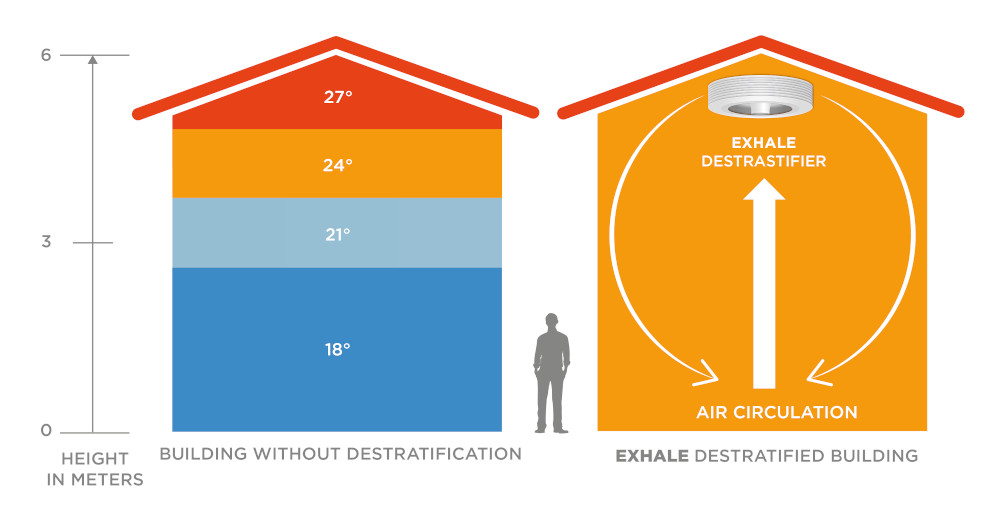 ---
Dimensions: Height 18 cms, diameter 86.4 cms.
With its 18 cms in height, the exhale fan fits perfectly in all environments, including low
ceilings.
Weight: 11.4 kilos
Color: white

6-speed remote control
The ventilator is delivered with its bluetooth remote control.


Speed:
Level 1: (4 Watts, 120 rpm)
Level 2: (6 Watts, 158 rpm)
Level 3: (9 Watts, 198 rpm)
Level 4: (16 Watts, 236 rpm)
Level 5: (36 Watts, 274 rpm)
Level 6: (50 Watts, 312 rpm)
Displaced airflow : 115 803 liters per minute

Sound volume :
Level 1: (27 dB)
Level 2: (31,5 dB)
Level 3: (37,5 dB)
Level 4: (38,1 dB)
Level 5: (38,7 dB)
Level 6: (40 dB)

Warranties (parts)
Fan: guaranteed for life
Electric motor 5 years


---
The fan is supplied with a remote control as standard, allowing you to adjust :
The rotation speed (1 to 6).
The light (independent of the ventilation).
Light intensity (dimmable from 20 to 100%).
---
Exhale delivery prices (per fan)
Metropolitan France = 15€ (excluding Corsica)
Continental Europe = 30€
United Kingdom = 90€
Switzerland = 90
Other destinations = on quotation
Examples :
If you order 2 Exhale fans in France, it will cost 30€ (2 X 15€)
If you order 2 Exhale fans in Germany, it will cost 60€ (2 x 30€)